Information for Maker Faire 2015
Printer-friendly version
In preparation for Maker Faire and with the expectation that I might run out of printed materials, I'm planning to have a
QR code
"poster" as backup (or for the smartphone equipped, environmentally concerned sorts):
---
This is the information on the general info card:
---
And a massive thank you to Ingrid of
Loop Braiding
for her help and company!
---
Instructions for the stellar knot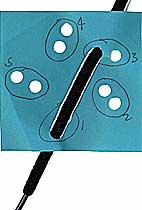 ---
Excerpt of an unpublished booklet, this section being related to
safety and knotted jewelry
---
Information about
furoshikis
, from the Japanese Ministry of the Environment.
---
Article on
knots in the Mars rovers
on The Planetary Society blog.
IGKT forum thread on
knots in the Mars rovers
.
---
Researchers have declared
that there are
24 882 ways to tie a necktie
a big jump up from the
85 found in 2001
. Play with their random
generator here
.
A curated list of
fancy necktie knots
A big list of
fancy necktie knots
---
Breaking strength source links: